This post walks you through the steps to create a DIY Fall Centerpiece by using copper leaf to transform some pheasant figurines.
A quick note that this post includes affiliate links and I will receive a commission but at no additional cost to you. I am presenting you with my own opinion and honest review of the information provided. If you want to read the entire disclosure statement, please click HERE.
DIY Fall Decor Blog Hop
5 Fall DIY Projects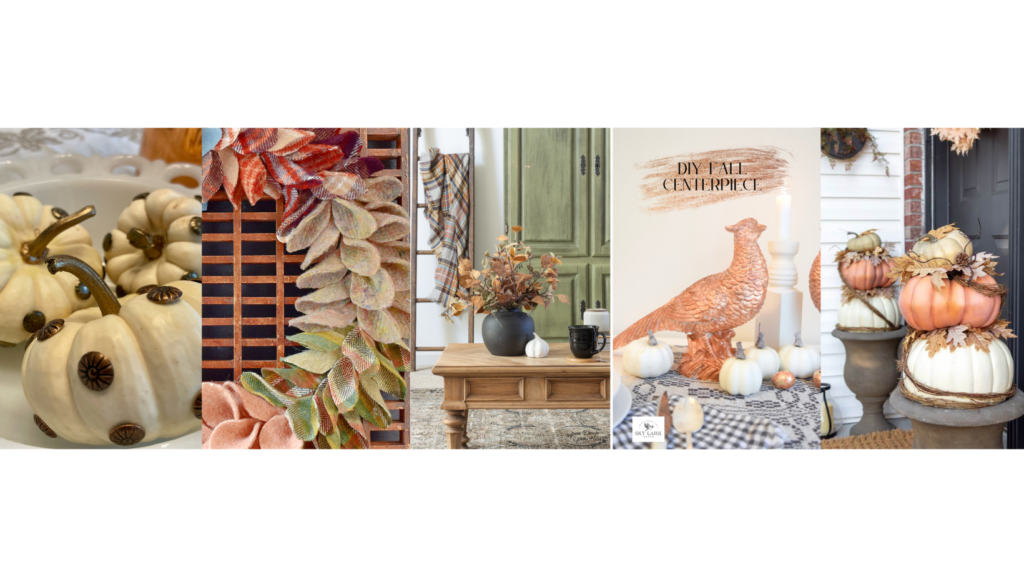 The Antiqued Journey | Create and Ponder | Open Doors Open Hearts
Sky Lark House | Midwest Life and Style
Thanks for stopping by the blog today! This post is part of a DIY Fall blog hop with
If you are stopping by after visiting Aliya, welcome to Sky Lark House! In this blog, I share information about antique and vintage items, refurbishing furniture and small DIYs. Today, I am showing you how to create a DIY Fall Centerpiece that uses copper leaf pheasants.
Back Story
I don't know about you, but I love going to a craft store this time of year. There are so many great ideas and sources of inspiration. So, on a recent trip to Michaels, when I stumbled upon a pair of resin pheasants, I just knew they would be great as a DIY fall centerpiece. The fact that they were on sale meant I put them in my cart rather quickly. Having said that, you can also find these types of figurines at a thrift store.
This year for fall, I was inspired by the color copper. It is such a warm metal that seems to resonate with all the fall colors. Perhaps it's all the copper pots used to make thanksgiving dinner or perhaps its the warm glow that copper brings into a room. Whatever reason, I am smitten with copper everything this year and fall table centerpieces were no exception.
So with that, I will walk you through the steps I took to create this easy fall centerpiece that incorporates copper leaf pheasants. These pheasants are perfect to use on your table as a thanksgiving centerpiece or really any time this fall season. They look beautiful on a dining table surrounded by white pumpkins, some pillar candles and other natural fall decorations such as pine cones or acorns.
Let's get started!
DIY Fall Centerpiece
As we approach the holiday season, I am a firm believer in easy fall centerpieces. The holidays are already crazy enough so I am all for simplifying things and reducing stress. This detailed tutorial provides an easy way to have a unique fall tablescape without spending a lot of money and it doesn't require a lot of time.
This project took about 2 hours to create and is truly an easy centerpiece to make. Since I created two copper leafed pheasants, not just one, it required a bit more time. You can really apply copper leafing to any figurine you think would be suitable for these fall centerpiece ideas. You can customize this process to suit your own personal design and color preferences.
Supplies
As with any project, the first thing we need to do is gather our supplies. When possible, I have provided links to the supplies listed below.
Resin pheasants (or turkeys or a large pumpkin or any item you think is appropriate for fall)
Copper leaf sheets
Sizing
Sealant
Several small brushes to apply the copper leaf
A dark metallic copper paint (not shown above)
A light metallic copper paint (not shown above)
Antiquing wax (not shown above)
Kraft paper to protect your work surface

Step 1: Apply Copper Leaf
After covering your work surface with kraft paper, line up your copper leafing supplies. This will include the thin metal sheets of copper, sizing (glue) to attach the copper sheets and a sealant to coat the copper leaf. I also used two small brushes.
Working in a small area on the pheasant, use one of your small brushes to apply the sizing. This is a thin glue that allows the copper sheets to adhere to the pheasant.
Keep working in an orderly fashion around the bird by applying sizing and then covering the area with a copper leaf sheet. Use your second paint brush to tamp down the copper leaf sheets to ensure they adhere to your bird. You may need to apply overlapping copper leaf sheets in various areas – that is ok!
Use the second brush to ensure the copper leaf is adhering to all areas of the bird. Pay particular attention to those areas that are difficult to see. Such as under the head and under the tail.
When the copper leaf has been fully applied, apply a sealant to the entire bird. Let the sealant dry.
As an aside, you can see from the photos that I also decided to apply some copper leaf to some quail eggs. I thought these copper coated eggs would be a charming addition to the table centerpiece.
Also, another tip- you may want to use Q-Tips to tamp down the copper leaf in hard to reach areas.
Step 2: Apply Copper Paint
Once your birds have copper leaf applied to them, you will notice that not every portion of the bird was covered. There will be small sections that are not covered by the copper leaf we applied previously.
That's entirely ok! We are now going to apply metallic paint to those areas. First, I applied the lighter metallic copper paint to those areas not covered by the copper leafing process.
I let the paint dry and then went over those areas again using a darker metallic copper paint.
Both of these paints are water-based acrylic paints and are easy to clean up.
Step 3: Apply Antiquing Wax
Once your paint is completely dry, use a small wax brush to gently apply some dark antiquing wax to your pheasants. Using a soft rag, wipe off any excess wax.
The goal is to get some of the wax into the crevices and nooks of the pheasants. This final step gives the birds a "been around for 100 years" type of finish. A quick tip – when removing excess wax be sure to gently wipe it off. If you remove the wax with too much force, you may inadvertently remove your copper finish.
Step 4: Enjoy your DIY Fall Centerpiece
Once your pheasants have completely dried, you are ready to use them for your simple DIY fall centerpiece. Here are some images I created for you that can be pinned to your Pinterest Board. That way, if you want to revisit this post in the future, all you need to do is click on the image.
You can see in the photo above that I added some mini pumpkins to this beautiful fall centerpiece. However, you can also include a glass vase with candles or any floral arrangement. I used faux pumpkins in the photos I shared here. This really is a simple fall centerpiece that you can use on your dining room table. The copper leaf pheasants act as the focal point of this autumn centerpiece.
By layering in votive candles and fall foliage you can further enhance this beautiful centerpiece on your dinner table. Also, you can always pick up some fall flowers and candles from your local grocery store or even from the dollar store or dollar tree. Place the pheasants in the center of your table and then tuck in fresh flowers (or faux flowers), small pumpkins, velvet pumpkins, acorns and any other typical fall colors you want to add.
Other Fall Projects
I wrote a post earlier this year for MMS Milk Paint on how to make the candle holder shown in these photos. They are made using the legs from an old table.
If you enjoyed this post, you might also like this DIY Copper Wreath project that I shared recently. This project is also very easy to make and requires kraft paper, scissors, a hot glue gun and the same metallic copper paint you used for the pheasants.
Summary
Thanks for stopping by the blog today. I hope you are enjoying all that the season has to offer, pumpkin spice everything, fall table decor, fall candles, as well as the beautiful fall foliage on the trees. If you decide to make your own fall centerpiece, please send me a photo! I would love to see what you create.
Just a reminder, this is just ONE post that is part of the DIY Fall Decor blog hop.
Please be sure to stop by Jen's post at Midwest Life and Style to see her amazing fall DIY project! (Here is a hint, it involves stacked pumpkins)
If you like these types of projects and crafts that I share with you, please subscribe to my blog. I will share these types of posts with you via email. You can also follow me on Instagram, Facebook or Pinterest.